LCA – The climate footprint of a beverage carton is one half as high of a plastic bottle
Tetra Pak publishes a Life-cycle assessment (LCA) conducted in Russia on popular milk packaging formats.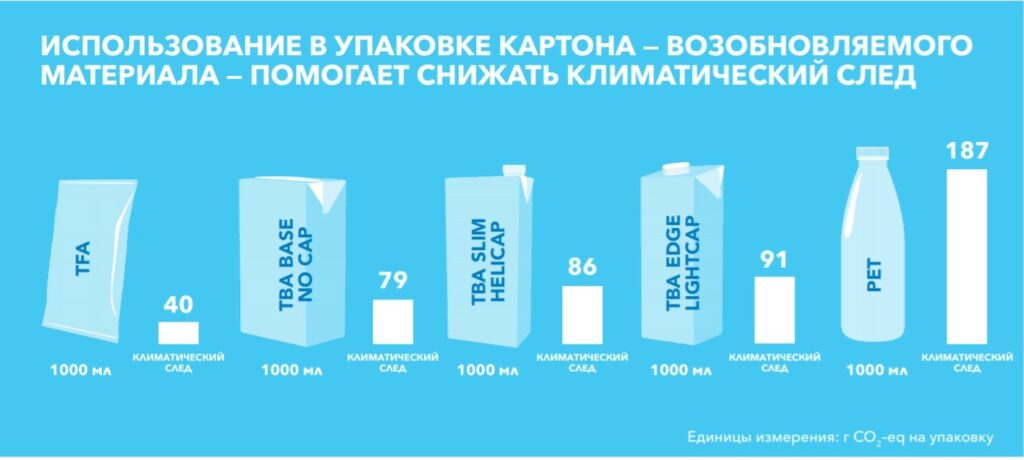 Beverage cartons have a lower climate change impact than PET bottles. This is evidenced by the results of a study by the British company ERM, one of the leading organizations in the market of consulting services in the field of environmental and social sustainability of business, conducted for Tetra Pak in Russia.
The study assessed the life cycle of popular 1 liter milk packaging formats: plastic bottles for pasteurized and UHT milk, the usual carton bag for UHT milk, and Tetra Pak packages for UHT milk (Tetra Brik® Aseptic 1000 Base, Tetra Brik® Aseptic 1000 Slim HeliCap, Tetra Brik® Aseptic 1000 Edge LightCap, Tetra Fino® Aseptic 1000). The study was conducted in an optimized format (streamlined LCA) to gain a general understanding of the potential environmental impact of different types of packaging for milk delivered chilled
and at normal temperature to the consumer. LCA takes into account all stages of the life cycle, including energy generation, extraction and use of raw materials, production, transportation, material handling, processing and disposal.
The assessment of the ecological footprint took into account the impacts in the process of bottling, distribution and storage of the product inside the package. The study found that Tetra Pak packaging performed more environmentally friendly than PET bottle in all environmental impact categories assessed. Separately, it is worth noting that Tetra Brik® Aseptic base packaging and Tetra Fino® Aseptic packaging are environmentally more efficient than other milk carton formats for all considered exposure categories.
"The results of the LCA study show that in terms of carbon footprint, beverage and liquid food cartons are likely to be more environmentally friendly than alternative packaging options," says Ivan Ivanov, Head of Operational Efficiency at ERM Eurasia.
Based on the results of the LCA study, three key conclusions can be drawn:
Beverage cartons show higher environmental performance than PET bottles for all impacts considered, regardless of the chosen distribution route.
Reducing the amount of plastic in carton packaging and its weight has a direct effect on reducing the carbon footprint of packaging.
Looking at distribution options, the results show that UHT delivery is preferred, regardless of the packaging solution considered.
According to the study, the environmental performance of carton packaging can be illustrated by the following example. If all milk consumed
in Russia were filled in Tetra Brik® Aseptic 1000 Edge LightCap30 (instead of a set of packaging formats including a
plastic bag, plastic bottle, Tetra Pak Ambient and Pure Pak cartons), greenhouse gas emissions would be reduced by 3.3 million tons per year, which is equivalent to the carbon footprint of 667,800 vehicles driven around the equator.
Tetra Pak has been focusing on reducing its carbon footprint, using the LCA methodology to assess its environmental impact since the mid-1980s. The LCA helps identify opportunities to reduce the environmental footprint of a portfolio of packaging solutions and contributes to a consistent improvement in environmental performance. Tetra Pak is committed to reducing its environmental impact by supporting the formation of a low-carbon circular economy:
All cardboard used by Tetra Pak is made from wood certified to the standards of the Forest Stewardship Council® (Forest Stewardship Council, FSC) and other controlled sources.
Tetra Pak reduces energy consumption by switching to renewable energy sources. This allows the company to reduce its environmental impact.
Tetra Pak is working to increase the proportion of renewable materials in its packaging. To achieve this goal, the company plans to completely eliminate aluminum foil from the packaging, as well as replace plastic with plant-based polymers, packaging with such polymers was recently launched on the Russian market.
Tetra Pak's recycled packaging components are used in the production of corrugated board, secondary packaging, building panels, paving slabs, stationery and other products.
"The study conducted by ERM allowed Tetra Pak to identify both the benefits and opportunities to reduce the environmental impact of Tetra Pak
packaging," said Dina Epifanova, Head of Corporate Responsibility and Sustainability, Tetra Pak in Russia, Belarus, Ukraine, Central Asia, countries Caucasus and Eastern Europe. "The study allowed us to set directions for further development of the environmental performance of Tetra Pak packaging, including replacing the aluminum layer with an alternative one, increasing the proportion of cardboard used in the packaging."